DATA RECOVERY TOOLKIT - OVERVIEW
Advanced Tool to Recover Data from All Types of Devices
Stellar Data Recovery Toolkit is a 4-in-1 software package that helps users to recover data from Windows, Mac, and Linux based devices. It recuperates files of all types in all data loss situations – drive corruption, bad sectors, malware intrusion, deletion, formatting, etc.
Toolkit to Restore Data, and Monitor Hard Disk
Recovers data from all types of storage devices such as hard drives, USB drives, memory cards, and so on.
Restores data from RAID configurations.
Gets back data from Virtual Machines and Disk Images.
Diagnoses the health and performance of hard disk.
Repairs corrupt photos and videos.
Supports recovery of all types of files regardless of their file extensions.
Windows 11 ready.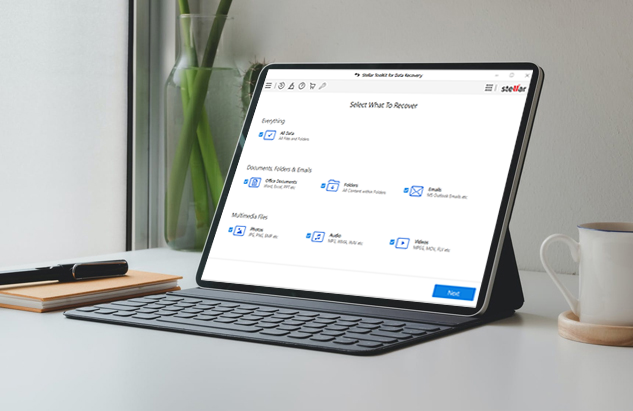 BEST-IN-CLASS TOOLS
4-in-1 Package to Recover and Repair Files
Stellar Data Recovery Toolkit is a software bundle that packs four applications to help users recover data, repair photo and video files, and monitor the health of storage devices. The power packed software are easy-to-use, and the selected software module perform its operations in a few clicks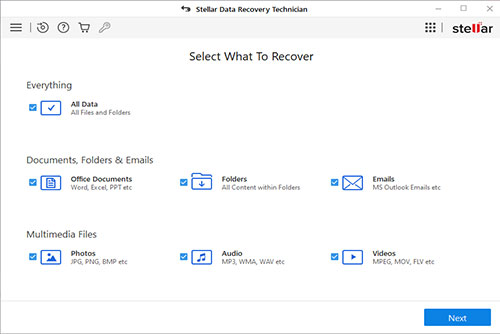 RAID Data Recovery
The data recovery toolkit provides you an option to recover RAID data lost due to RAID controller failure, multiple disk corruption, metadata issues, RAID configuration problems, or any other logical issue. The software doesn't require RAID controller to get back the crucial RAID data. It allows you to rebuild the RAID and scan RAID volumes to fetch data.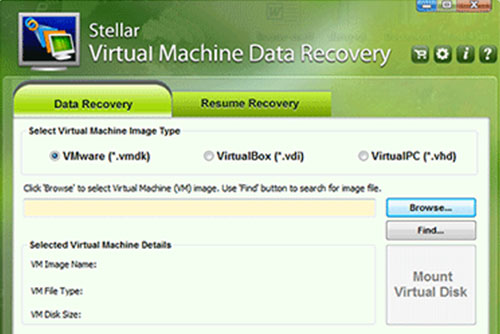 Virtual Machine Recovery
Using Virtual Machines helps you run multiple Operating Systems and servers with minimal hardware resources. If you've lost or deleted Virtual Machines, you can use Stellar Toolkit for Data Recovery. It lets you get back your Virtual Machines in a breeze.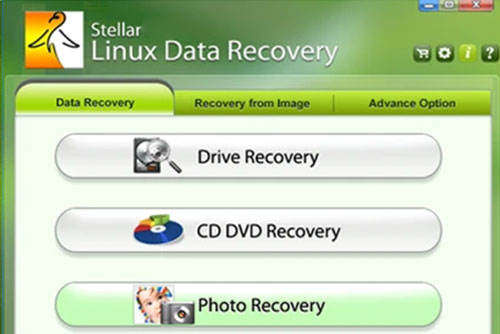 LINUX Recovery Software
The advanced version of Stellar Data Recovery software supports recovery of data from LINUX systems. It can easily fetch data from LINUX drives having Ext4, Ext3, & Ext2 file systems. It works in all data loss situations such as accidental deletion, drive formatting, virus infection, bad sectors on drive, file system issues, etc.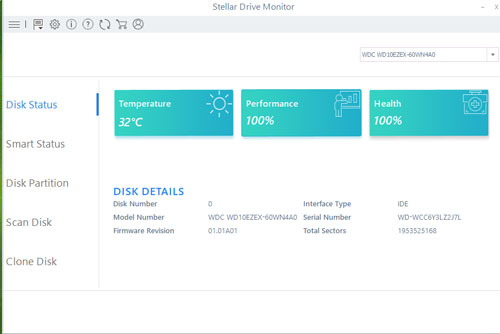 STELLAR DRIVE MONITOR
The drive monitor utility helps in monitoring the temperature, health and performance of hard disk. It also determines the status of SMART parameters such as Raw Read Error Rate, Throughput Performance, Seek Error Rate, Reallocated Sector Count, etc. The drive monitor module lets you scan the disk to show the number of bad sectors on it. In addition, if the drive monitor shows health issues with disk, you can use disk cloning feature to preserve the data
KEY featureS
A Complete Package for Your Data Recovery Needs
Stellar Data Recovery toolkit comprises of data recovery, photo/video repair, and hard disk diagnostics tools, power-packed with advanced features.

Recovers Data from Windows, Mac, and Linux Storage
The software supports data recovery from all types of Windows, Mac, and Linux based devices. It recovers data from devices with NTFS, FAT16, FAT32, exFAT file system. It also facilitates recovery of data from APFS, HFS, HFS+ Mac drives. And, the tool also gets back data from Linux based storage having Ext4, Ext3, & Ext2 file systems.

RAID, and Virtual Machine Data Recovery
Stellar Data Recovery Software is an advanced tool that recovers data from virtual disks such as VHD and VHDX. The tool also recovers data from common RAID configurations -- RAID 0, 5, and 6. It can detect the RAID parameters automatically and reconstructs virtual RAID. Once the RAID is reconstructed, all the data can be recovered by scanning the RAID volumes.

Data Recovery from Unbootable System
The software can fetch data even from unbootable or crashed Windows and Mac systems. You simply need to install the software on a working system and create a bootable drive from it, and you are ready to recover your precious data. Boot the affected system from the bootable drive, and you'll see the software interface to recover data. Use the interface to scan the unbootable drive and rescue your lost data.

Recovers Data from Lost, Missing, or Inaccessible Partition
A partition on the drive may become inaccessible, go missing, or lost due to drive corruption. This may also happen due to system issues or human errors such as accidental deletion of partition. The software can recover error throwing and missing partitions irrespective of the cause of issue. It can also restore RAID partitions.

Free Download 100% Secure

Buy Now
* Free download to scan and preview your lost or deleted data.
HOW IT WORKS
Recover Data in 3 Simple Steps
Recovering data with Stellar Data Recovery Software is a simple three step process – Select, Scan, and Recover.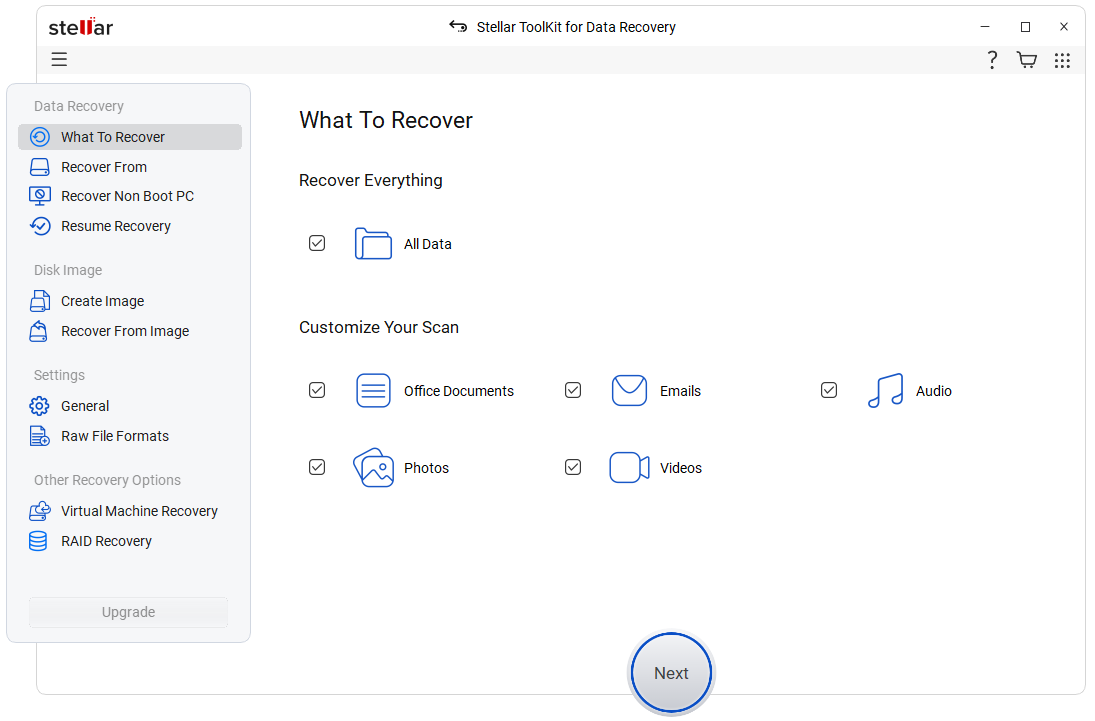 Select File Type
Select the type of files you wish to recover, and click the 'Next' button.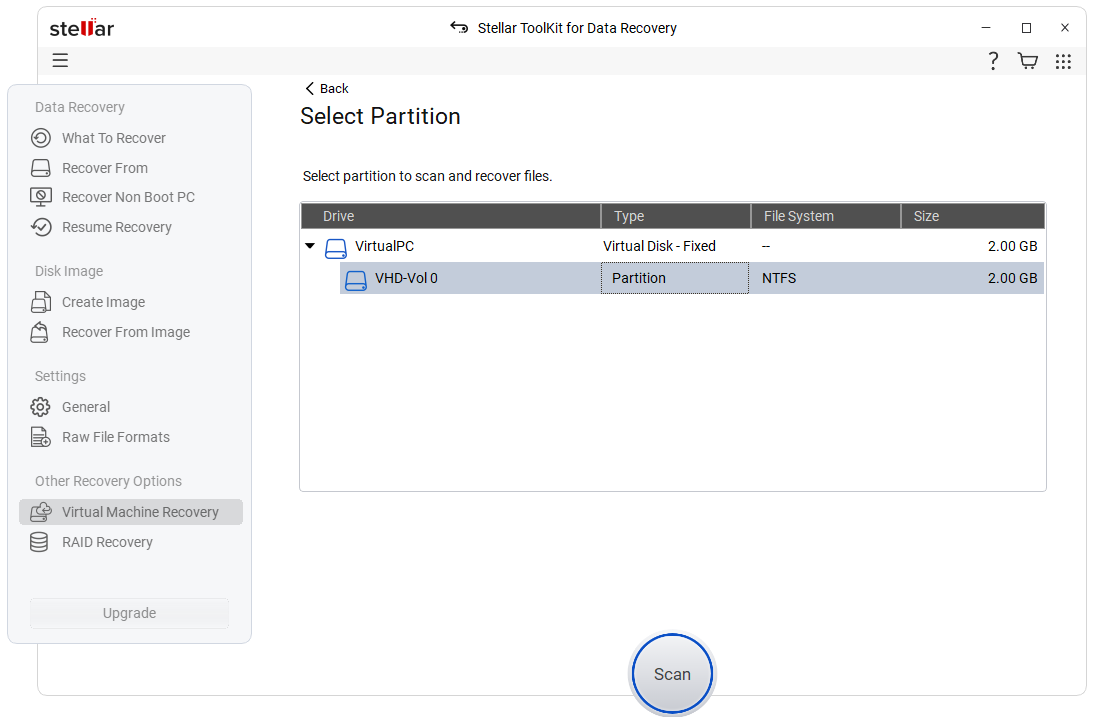 Scan the Drive
Select the location on the drive from where you wish to recover your lost or deleted data, and click the 'Scan' button.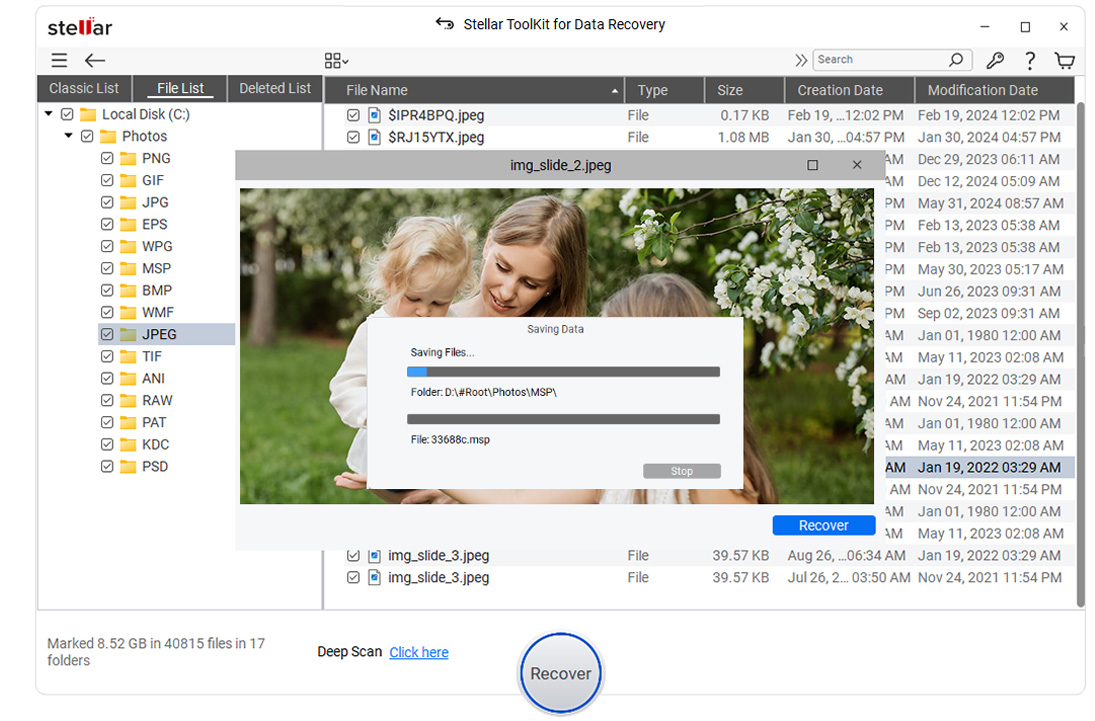 Recover Data
Choose the files/folders you want to recover, and click the 'Recover' button to recover the selected data.
Technical Specifications
About Product
---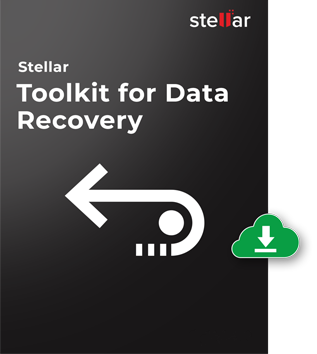 Version
11.0
Release Date
November, 2023
License Usage
Multiple Users
Language Supported
English, Deutsch, Français, Italiano, Español, 日本語 , 한국어, हिंदी
System Requirements
---

Processor
Intel compatible (x86, x64)
Operating System
Windows, Mac & Linux
Memory
4 GB minimum (8 GB recommended)
Hard Disk
250 MB for installation files
Documents
---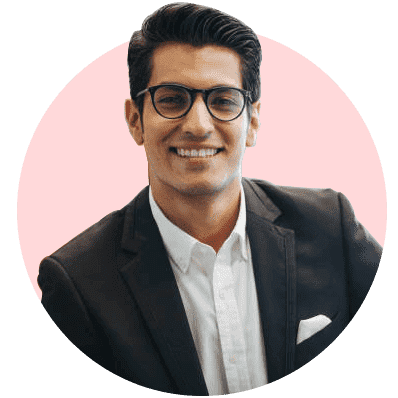 Start Using Stellar Data Recovery Toolkit Today
The toolkit contains advanced tools with awesome features. Get this toolkit now to recover your business data, repair videos/photos, and diagnose hard disk health.
* Free download to scan and preview your lost or deleted data.
FAQ
Does the toot kit contain RAID 5 recovery tool?
Yes. You can use the data recovery module of the toolkit to recover RAID 5 data.
Can I recover lost partition by using the software?
You can use the partition recovery feature of the software to recover lost/missing partition.

I have accidentally deleted my virtual machine. Does the software recover the virtual machine?
The data recovery module can help you in recovering your deleted virtual machine.
Does the software recover data from corrupt and unrecognized storage devices?
Yes. The software has a powerful scan engine that can parse and recover data even from severely corrupt or unrecognized media.