From a virus attack to a speck of dust—there are myriad reasons for a hard disk malfunctioning. The latest BackBlaze report pegs the average failure age of SSD (power-on time) at 12.7 months and HDD at 49.6 months (at time of failure). Data loss is inevitable at some point in time and can be a slight inconvenience or a significant setback, depending on your state of preparedness. If it happens, all is not lost. In many cases, nearly complete data recovery from your hard drive may be possible. In this guide, we will explain how to recover data from hard drive:
Types of hard drives
Common causes of hard drive data loss
Common causes of hard drive failures
How you can recover hard drive data using recovery software
In which situations the software might not be enough (and what you can do)
How you can avoid a data loss situation by monitoring disk health

Stellar Data Recovery for Windows
Exclusive Offer- Enjoy Unlimited Data Recovery for 1 Month @ ₹3,999
Get Instant Key
Get Service Coupon worth ₹ 1,500
Free Technical Support

Buy Now
Types of Hard Drives
Commonly Known Interfaces
PATA—Parallel ATA with 40 pin connectors were used till 2003. They are largely replaced now, but legacy hardware might exist.
SATA—Serial ATA is much faster and connects with a thin cable that looks like a ribbon. Each end has a locking latch.
SAS—Serial-Attached SCSI is another interface technology used for enterprise storage. SCSI offers greater data throughput than SATA.
Hard Disk Drive versus Solid State Drive
Hard Disk Drive
A hard disk drive or HDD has a motorised platter with several layers of magnetic material.
It also has a read, write head and an overall architecture remarkably similar to vinyl records.
Typical speeds are 5400 rpm and 7200 rpm and the form factors are 2.5" (laptops) and 3.5" (desktops).
Hard Disks use PATA (till 2003), SATA (2003 to now), and SAS interfaces for data transmission.

Solid State Drive
Solid State Drives have no mechanical parts and store data in billions of transistors.
SSD drives have better throughput. A modern SATA SSD drive can read and write at 500 MB/second.
SSDs drives are also built using transistors, but they differ in the way flash memory is used (not to be confused with Flash, an extinct software from Adobe).

Note that PATA, SATA, and SAS are interfaces (connectors) and not drive technologies such as solid-state (SSD) and rotating platter (HDD).
Also, read SSD vs HDD
What are the Causes of Data Loss in Hard Drive?
Data loss could either be logical or physical in nature. When the data loss problem is logical in nature.
Accidental Data Deletion
We all know the sinking feeling when we delete a folder with important information and then clear out trash and cache files at the end of the day. This error is easily reversible using Stellar Data Recovery Software. The information on the file still exists and hard disk recovery software can extract it. Download and install hard drive data recovery software for free. Select the drive from where you deleted the data.

Free Download 100% Secure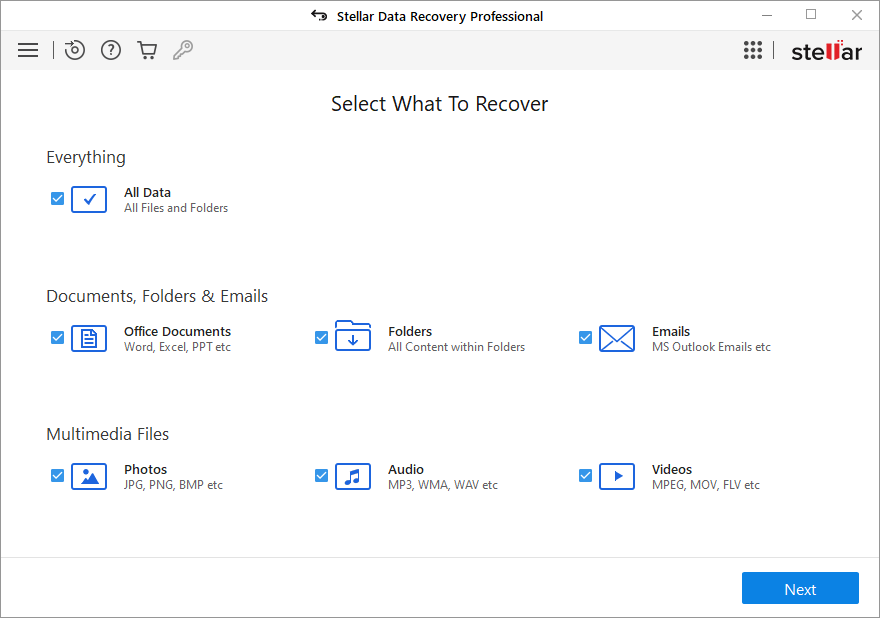 Hard Drive Formatted
The computer maintenance guy formatted the wrong drive. He installed Windows 10 on the 2 TB Seagate instead of the 2 TB Western Digital. It is annoying but can happen when drives have a similar nomenclature on the Windows SetUp page. You can still recover the data using professional hard disk recovery software. Download and install Stellar hard drive data recovery software for free. Choose the 'Can't Find Drive' option on the home screen.


Free Download 100% Secure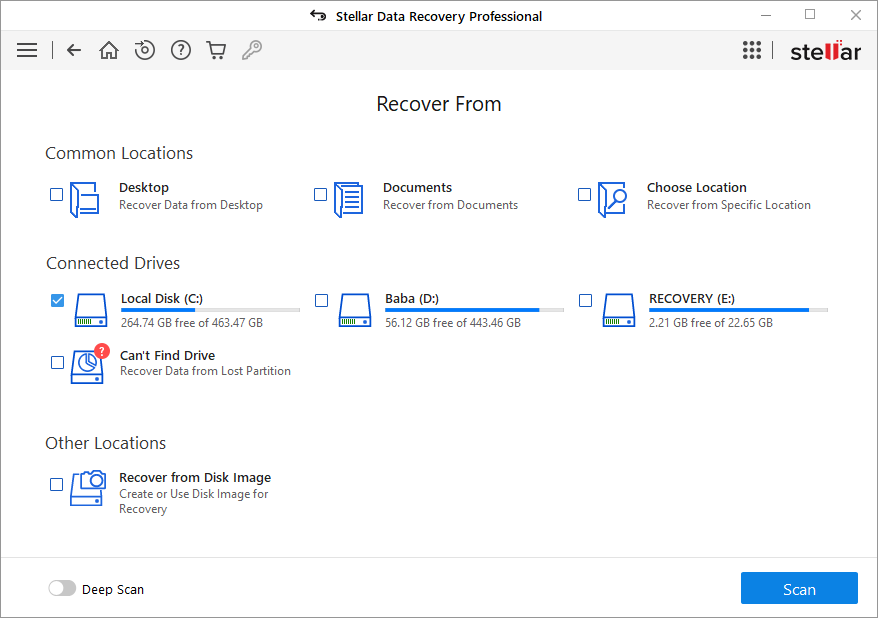 Formatted Hard Disk Partition
Perhaps you wanted to use the Windows Disk Management Tool and merge the E drive with the F drive and ended up with neither. Or instead of a right-click on USB and selecting Format, you did it on a hard disk partition. Data recovery is still possible. Stellar Data Recovery Software supports NTFS, FAT16, FAT32, and exFAT formatting.
How to Recover Data from Formatted Partition?, with the help of Stellar Windows Data Recovery Software.
Data not Visible on Hard Disk
An operating system has a register known as File Table. Sometimes a file might get derecognized by the system. But the file actually exists. Think of it as an address that the postman can't remember.
Note—this is a highly generalised description and the details vary considerably between UNIX, Windows, Mac, iOS etc.
Data Visible but Unable to Copy
A file can get corrupted for no known reason. Usually, the OS will return a message that reads "Word/Excel/PowerPoint Found Unreadable Content on the file".Oddly, the content of the file might show up during a Windows search. Stellar Data Recovery Professional lets you recover data from corrupted files.
Ransomware Attack
A very serious threat that is escalating daily. Someone clicked on a link and that led to malware executing and locking up the hard drive.
Hard Drive has Bad Sectors
A drive is not monolithic but broken into 4/8/16/32/64 KB chunks known as sectors. If a sector fails (the magnetic material of a spinning HDD is literally damaged), any file which occupies that sector would be unreadable. With SSD, it is known as block failure when transistors fail. Stellar Data Recovery Software can locate deleted documents, folders, and media files.
You can also read, What are Bad Sectors in Hard Disk?
Hard Drive is Encrypted
The information on a drive has been encrypted using an algorithm or cipher. In simple cases, it might mean a drive that the owner has been locked out of because of a forgotten password.
Additional read, How to Recover Data From Formatted Bitlocker Encrypted Hard Drive?
Stellar Data Recovery software is easy to use and helps with data recovery in situations where the hard disk is not physically damaged (logical loss). It is compatible with both Mac and Windows, 32 and 64-bit systems. This free hard disk recovery software needs a minimal space of 250 MB for installation and allows you to select the file type to recover. Such as you may choose to recover all documents but skip the music collection. After all, data recovery is time-consuming.

Free Download 100% Secure
When the Data is Lost Because of Physical Damage to the Hard Drive?
Scratched Platter
This happens due to wear and tear and dust. Once it happens, the platter will not function fully.
Read/Write Head is Broken
This happens due to wear and tear and dust. Once it happens, the platter will not function fully.
Motor Problems
The platter has to rotate at a constant speed as long as the computer is powered up. A minute variation can cause the head to malfunction.
PCB Dysfunctional
The entire mechanism of an HDD and SSD has a small controller circuit board that is attached to the device. A capacitor or a resistor can fail, causing incorrect read, write, and throughput.
Stellar Data Recovery Services
In case of data loss because of physical damage to your hard drive, you'll need a professional data recovery service. Recovery will involve diagnostics, parts replacement, and logical recovery methods. Don't trust amateurs because you could lose your data permanently if the recovery isn't done properly. Stellar Data Recovery is India's most trusted data recovery brand. Our state-of-the-art Class 100 Clean Room is the biggest in Asia. Entrust your damaged hard drive to our professional lab for reliable and complete recovery. Of course, if your data loss is logical in nature, you can recover it yourself using free hard drive data recovery software.
Why Stellar Data Recovery Software?
Here are 8 reasons why stellar data recovery software should be an ideal choice
Stellar Data Recovery Software is a top-notch Indian product with offices in 14 major Indian cities.
It's made in India, for Indian customers, priced in INR, and backed by India's most credible data recovery service – Stellar Data Recovery.
In case you're unable to recover your data with Stellar Data Recovery Software (maybe because the actual problem with the device is physical), you can get data recovery service from us. Of course, any amount you pay for the software will be reduced from our service fees.
Stellar Data Recovery Software is easy to use. All that you have to do is download the demo edition software, and scan the hard drive for lost data.Buy the licence only when satisfied with the demo.
1 Year and 1 Month licence versions are available as per customers' preference and data recovery requirement.
The UI is nice and clean with a preview pane where you can select the file types you want to recover.
Supports recovery from internal hard drive and all detachable data storage devices, including USB flash drive, external hard drive, memory card, etc.
Supports recovery from encrypted hard drives, supports RAW Files recovery, and supports all file formats.

How to take Regular Backup and How to Take Care of Storage Devices for Longevity?
You need to back up data regularly. Whether you are using a desktop at home or a server for your business, there needs to be a physical copy. As we mentioned at the start, data centres lose thousands of hard disks daily but rewrite them from backup. From Windows 10 onwards, Microsoft has a regular backup tool. For versions previous to that, it is best to use software. It is essential that you care for the hard disk.
DO NOT
To operate a hard drive in a dusty environment.
Drop it on a hard surface.
Operate it at no more than 30°C ambient temperature.
Switch off computer power without initiating a shutdown.
DO
Use a SMART tool (Hard Drive Self-Monitoring, Analysis, and Reporting Technology) for monitoring power on time and bad sectors.
Keep an eye on data transfer speeds by copying a large one GB file to and from the hard drive to check its health. A failing drive often slows down first.
Stellar Drive Monitor Tool lets you scan your hard drive for health issues, Download hard disk recovery software for free. If you need more information and advice, contact us.