Stellar Data Recovery Software
Stellar Data Recovery, is a powerful software designed to effortlessly recover lost and deleted data from various sources on your Windows devices. Whether its laptops, PCs, external hard drives, SSD drives, USB drives, memory cards, or SD cards, this reliable Windows data recovery tool has got you covered.
With just three simple steps, you can now easily retrieve over 300 different file types. Stellar Data Recovery Software offers a user-friendly interface that ensures a smooth and intuitive recovery process.
Retrieves specific files by file name and type.
Recovers data from formatted partitions and crashed/unbootable systems.
100% accurate, reliable, and efficient data recovery software.
3 million+ customers trust Stellar in 190+ countries
Preview recoverable files before you purchase | No surprises
Compatible with Windows 11, 10, 8 and 7
Powerfully scans your data to find and recover it and gives you a glimpse of the recoverable files before you save them.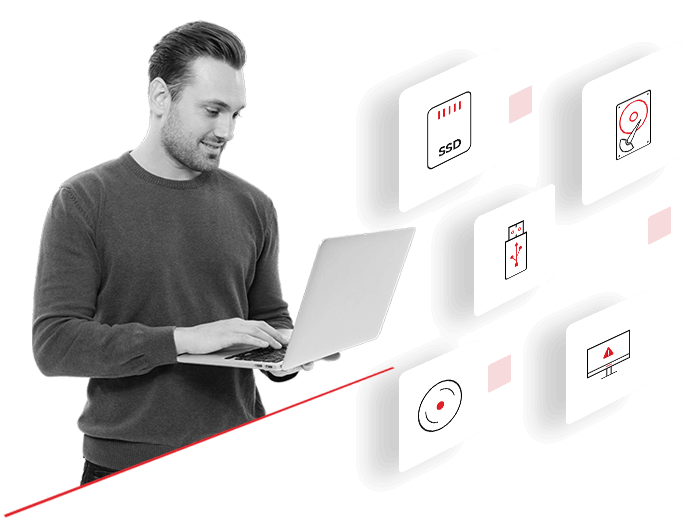 Windows Data Recovery for Corporate Clients
Stellar is the only name worth remembering for India's leading corporations, for their Windows data recovery needs. India's top 1000 companies feature many happy and loyal Stellar Data Recovery software users. Contact us for our special corporate offers.












Data Recovery From Windows Devices for Govt. Agencies
We've helped the Indian government to recover data from Windows devices in many tricky situations. Stellar Data Recovery is the brand trusted by India's premier government originations and agencies.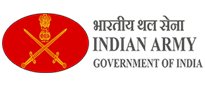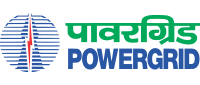 Rating & Reviews
Most tested. Most awarded. For over 30 years,
we've been recognized as experts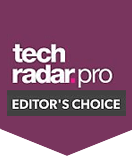 Top Award By
Techradar.pro

Stellar Data Recovery is one of the best data recovery tools we've used, with highly customizable searches, a huge file-type library, and deep scan abilities. Overall, Stellar Data Recovery is a great file retrieval tool with powerful advanced options for business. In its simplest form, it enables anyone to retrieve lost data from a computer or external storage device.

I had 2 Western Digital Hard drives from 2010 which had lot of old Photos and important documents but I was not able to recover for years and I tried lot of softwares like iCare, recuva etc but none recognized the drive. Stellar Professional Software for Data Recovery scanned my drive and recovered all the 500 GB of Data. Highly recommended and very useful.
---


MANISH MATHUR
I tried with several free recovery software's, which didn't work out. When I was trying like this , I landed on Stellar recovery software. I tried recovering the data using Stellar data recovery software. I could successfully recover all the data using this software. Thank you so much for saving my day.
---


Veerabhadrudu
I feel happy to recovering my data's and they are doing well professional job. My data is recover 80% but software is good.
---


Narendra Kumar
I formatted the d drive of my desktop by mistake. Next day, I scanned my drive first from the demo version of Stellar professional and then bought it for recovery. It worked for me and I was able to recover all of the lost data (size: approx 250Gb). Thanks !
---


Ashish Kumar


Data Recovery In-Lab Service
Unable to recover your Windows data with data recovery software?
Ask an expert to take over.
80% of the times, Stellar Data Recovery Software will be able to recover your Windows data. In case the cause of data loss is severe physical damage to the hard drive, software can't do it for you. But, we will still recover your data. Our data recovery experts have decades of experience with in-lab data recovery as a service.
Technical Specifications
About Product
Stellar Data Recovery for Windows
| | |
| --- | --- |
| Version: | 11.0 |
| License Usage: | Single User |
| Edition: | Standard, Professional, Premium, Technician, Toolkit |
| Language Supported: | English, Deutsch, Français, Italiano, Español, 日本語 , 한국어, Português Brasileiro, Dutch, हिंदी |
| Release Date: | February, 2023 |
System Requirements
| | |
| --- | --- |
| Processor: | Intel compatible (x86, x64) |
| Memory: | 4 GB minimum (8 GB recommended) |
| Hard Disk: | 250 MB for installation files |
| Operating System: | Windows 11, 10, 8.1, 8 & 7 (Service Pack 1) |
Documents
Fast & Easy Data Recovery – Get Back your Data in 3 Steps
Step 1 : Select File Type
Select the type of data you want to recover and click 'Next'.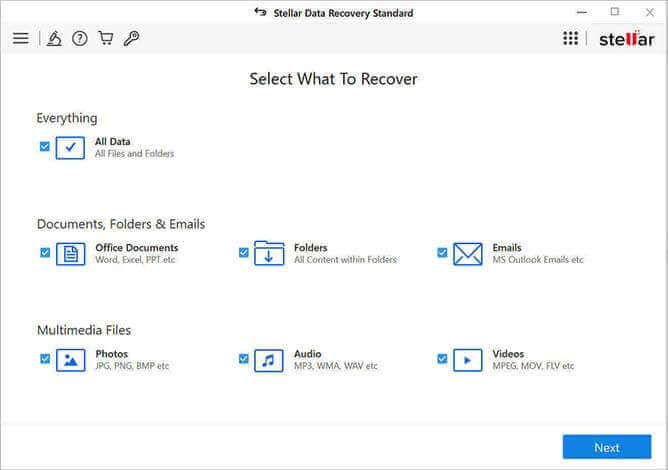 Step 2 : Select Drive Location and Scan
Select the folder location or drive volume and click 'Scan'.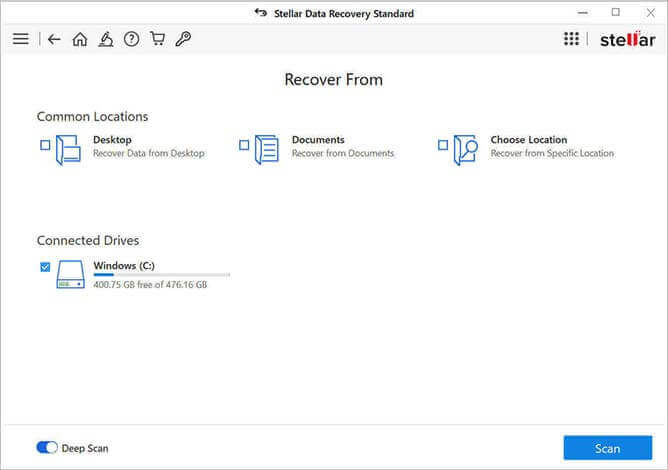 Step 3 : Preview & Recover
Preview & select the files and click 'Recover' to save them.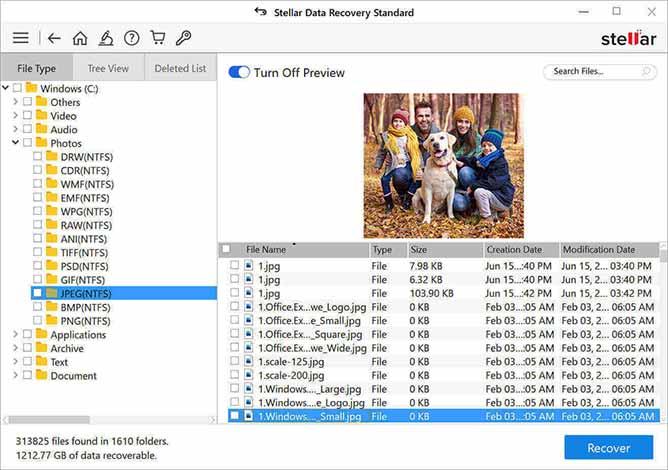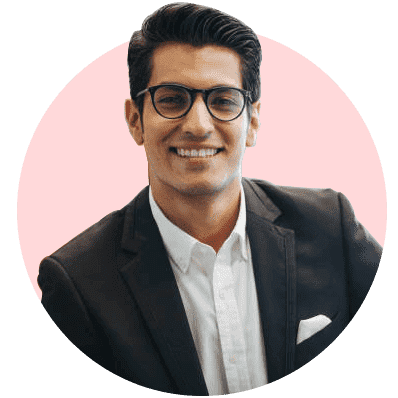 Use Stellar Data Recovery Software
Experience the ease of data recovery as you regain access to valuable files and memories with Stellar Data Recovery Software for Windows. Whether it's accidental deletions, formatting errors, or unexpected data loss, this software offers a reliable and user-friendly approach to retrieving your data intact. Any type of storage device with an NTFS, FAT32, FAT16, or exFAT file system can have its data recovered using Stellar® Data Recovery Software for Windows.

Free Download 100% Secure

Buy Now
* Download the free trial version to scan & preview your lost or deleted data.
FAQ
How can I recover lost data on Windows system?
You can use Stellar Data Recovery software for Windows to recover deleted files or lost data from any data storage device.
Here are the quick steps:
Download, install, and launch the software on a Windows system
Select the drive from which you've lost the data
Scan the selected drive
Preview the recoverable files
Recover the files and save them at a desired location
How much time does the Stellar Windows Data Recovery software take to scan the drive?
The Software scan time depends on the capacity of your hard drive, hard drive health, and the number of bad sectors on the drive. It normally takes 3–4 hours to scan a 1 TB drive.
What file types can be recovered by Stellar Data Recovery software for Windows?
The software can recover deleted files including database, photos, audio/video, email files, and all other types of files.
If a file type is not in the list of software's supported file extensions, you can add the type of file you want to recover.
Is Stellar Windows Data Recovery software compatible with Windows 11?
Yes. Stellar Data Recovery for Windows is compatible with Windows 11 and older versions such as Windows 10, 8.1, 8 & 7.
Does the software allow recovery of only specific types of file?
Yes. You can click on 'File Type' tab in the left pane after the software has scanned the drive. Next, choose the desired file type and proceed to 'Recover' and save the file at the location of your choice.
Can Stellar Data Recovery software recover data from formatted hard drive?
Can I use multiple versions of Stellar Data Recovery software on my PC?
Can Stellar Windows Data Recovery software recover deleted files from pen drives, CDs, and DVDs?
Yes. The software can recover data from all types of data storage devices including pen drive recovery, CDs, and DVDs.
Does Stellar Data Recovery for Windows support exFAT partitions?
Yes, you can safely recover data from any exFAT-based volume or drive by using Stellar Data Recovery. The software also supports FAT (FAT16/FAT32) and NTFS partitions.
What is Quick scan and Deep scan?
Quick scan is a general scan that looks for recoverable data by tracing them in your drive. Deep scan feature does a comprehensive scan of your hard drive based on file signature to recover every bit of lost/deleted data.
Does it take long for the software to scan, could I keep working on my computer while the data recovery software is working?
How will I know if the data recovery software has found my missing files?
You will be able to see the names of the files and then preview the recovered files.
What should be the next step once the stellar windows data recovery software scan is complete and my lost files are shown?
The software once completes the scan of the affected drive, shows all the files, users can select the files/data that they want to save. Please make sure the files are saved on a different storage devices. The demo version of the software will allow users to preview the files, to save the files users need to purchase the software and activate to save the lost data.
Can I use the data recovery software again and again, if I have future problems with missing files, or is it a once-off?
Yes, the licensed version of stellar windows data recovery software can be used multiple times to recover data. We offer 1 month and 1 year license validity, the users can buy any of the above mentioned license and recover unlimited data.