Easy availability of storage devices viz. HDDs, SSDs, pen-drives, etc. have turned more people to store valuable data on them.
Stellar® Data Recovery offers a complete range of data recovery option to recover deleted data according to different data loss scenarios. Choose the most preferable data recovery option as per your need.
What if somehow you lose precious data stored on your storage media? You'd definitely look for one of the three options to recover the lost data.
Try data recovery on your own by using a DIY data recovery software
Hand over your drive to the next door (local) IT services provider for data recovery
Opt for a specialized and professional data recovery services provider
First option is applicable only when the storage media is functional and the data loss situation is uncomplicated—minor drive corruption, deletion, formatting etc.
In complex data loss situations such as a dead drive, physically damaged drive, severely corrupt drive, firmware corruption, and others, you may be tempted to choose a local IT services provider who claims to provide multiple IT services including data recovery. Choosing such a local vendor may include the following:
It's convenient for you to reach such vendors
You trust them because they claim that they are expert in computer repair or any other IT technology
They offer you a lower cost for data recovery
Beware! You may fall prey to amateur or unprofessional data recovery service providers and may lose your valuable data forever.
Who is an Unprofessional Data Recovery Service Provider?
Firstly, providing generic IT services and providing specialized data recovery services are two different things. Both need completely different skill sets, experience, infrastructure, equipment & tools, and process rigor. Merely having computer/mobile repairing skills or other generic IT skills doesn't qualify anyone as a "professional data recovery service provider".
So, beware of local vendors who claim to be data recovery experts but actually they don't have proven skills, experience, infrastructure, tools, and process rigor for intended data recovery job.
These dabblers wouldn't be able to recover data in most of the data loss cases. In fact, many of these local service providers learn data recovery at the expense of your data. Due to the lack of knowledge and experience, they use hit and trial methods, which reduces the chances of successful data recovery and may also lead to permanent data loss.
Typically, unprofessional data recovery service providers would offer a 'great deal'. But, handing over the storage media to such unprofessional data recovery service providers is also a grave risk to the integrity and privacy of your data.
When you choose a Professional Data Recovery Service Provider, on the other hand, you are assured of best possibility of recovery of your precious data utilizing a world-class infrastructure and highly experienced data experts.
You get only 1 chance of Data Recovery ; you need to choose the best available provider to make it happen
Let's dig deeper to see how the unprofessional data recovery service providers put your data at risk in an attempt to recover it.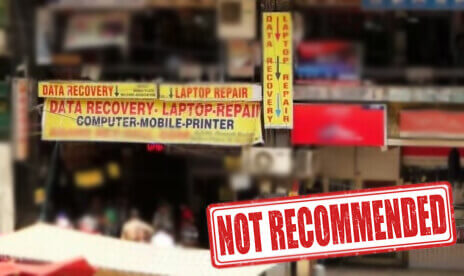 A local computer repair marketplace
Is Data Recovery Confidential?
In a professional setup, data recovery is always confidential. However if you are working with a local next street vendor for your data recovery service requirement, you may not get 100% data security and confidentiality. You should always verify and check the credentials of your service provider, especially when you are dealing with very sensitive and confidential data. You should always look for an ISO certified company for data recovery requirement.
Why it's Risky to Handover the Media to Unprofessional Data Recovery Service Providers?
Understand how submitting the media to such amateurs may lead to permanent data loss and data breach.
Lack of Knowledge and Expertise
The so called local professional data recovery service providers cut corners to provide their services at lower rates. Hence they can't afford to have highly paid, knowledgeable, and expert technicians and maintain right quality equipment to recover your data. It's similar to handing over your drive to someone who doesn't exactly know what's gone wrong, and what precisely needs to be done to recover the lost data. Devices such as SSDs, HDDs, Pen drives, etc. come in different makes and models. Each of the diversified range of storage devices demand different set of skills , experience and equipment to recover data from them. You cannot expect unprofessional data recovery service providers to have that level of experience, skill set or equipment which is actually required to recover data from your specific storage media.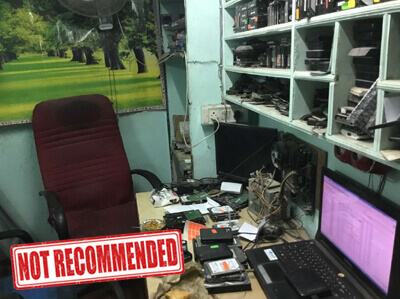 Unprofessional way of handling hard drives
Improper Diagnosis
What if you see a doctor for treatment and you are diagnosed with a disease that you aren't suffering from. The entire treatment would then proceed in a wrong direction and that could be life threatening. The same happens when it comes to the diagnosis of the affected storage device. Media diagnosis helps in analyzing the underlying issue and collecting other information relevant to data recovery. A wrong diagnosis of the problem wouldn't recover your data for sure. Instead, it might put your data at the risk of permanent data loss. Remember, you get only one chance to recover your data especially in case of physical drive failure. Multiple attempts greatly diminish the chances of recovery.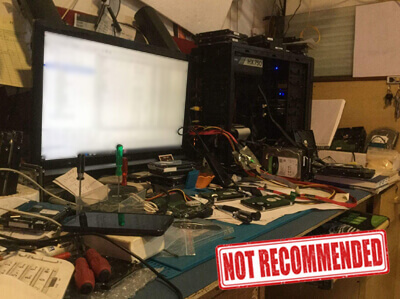 Drivers are ready to screw your storage media
Inadequate Infrastructure
For successful data recovery, it's a must to have a state of the art infrastructure. The dismantling and replacement of damaged parts with spares must be done in a special environment—Class 100 clean room lab— and with compatible spares. The absence of these two result in permanent data loss. The storage media such as HDDs or SSDs are so delicate that they could get damaged even by the dust particles that are as small as 0.5 micron. Also, the use of incompatible spares may permanently damages the storage device resulting in permanent data loss.
Such lab and inventory of spares need a huge investment and commitment, which the unprofessional data recovery service providers cannot afford. This is one of the other reasons for which they offer their services at a lower cost.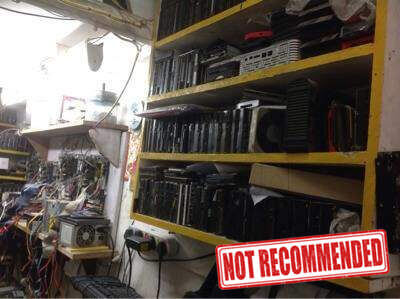 Contaminated place to open any storage media
Non-adherence to International Standards
The ISO 9001:2015 certificate is issued to process-oriented organizations who are certified on rigorous process parameters to meet customer requirements on quality, delivery, service and various other key aspects.
In contrast, the unprofessional data recovery service providers are not certified by an International Authority and do-not follow ISO9001 quality guidelines. Due to this, they don't have to undergo any quality audits and therefore they are not concerned about delivering great customer service or quality output.
The ISO27001 is the international standard which is recognized globally for managing risks to the security of information that Data Recovery Service Providers hold. Certification to ISO 27001 allows you to prove to your clients and other stakeholders that you are managing the security of your client information and thereby safeguarding their data privacy. None of the unprofessional or amateur service providers maintain this certification which poses a great and direct threat of data leakage of your precious data onto open forums.
Professional Data Recovery Service providers post successful delivery of recovered data to the clients ; permanently wipe out all traces of such data from their system thereby eliminating any chance of data breach. Unprofessional vendors have no such facility.
Even if they successfully recover your data, it's not assured that they won't misuse or leak your confidential data. Data theft these days is a big concern which may inflict huge financial and reputation losses to you. The 2019 Cost of Data Breach Report by the Ponemon Institute said that the average cost of a data breach in the U.S. is USD 3.92 million.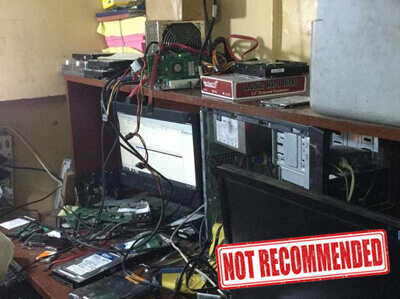 A typical local data recovery setup
Use of Hit and Trial Methods
Its said that 'A little knowledge is a dangerous thing'. With this little knowledge, the unprofessional data recovery service providers learn data recovery at the expense of your data. They try different hit and trial methods. They use cracked versions of data recovery software to recover your data. Due to the lack of inventory and knowledge, they replace the parts of your drive with incompatible spare. All these further damage your media and make the data irrecoverable.
Deliberately Damaging the Device
Unprofessional data recovery service providers lack long-term customer service goal, empathy, knowledge and the required resources. If they're unable to recover the data, they may deliberately tamper the media in a way that other Professional service providers are then also unable to recover the data so as to protect their own credibility.
For instance, the data recovery team at Stellar® had come across a few cases wherein the hard drives appeared intact from the exterior but the platter of the hard drives were found to have deep scratch marks!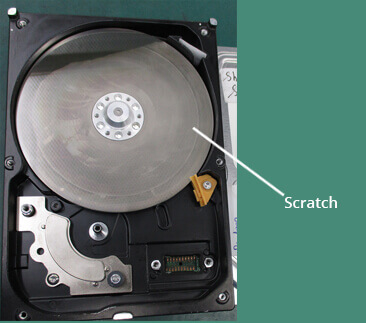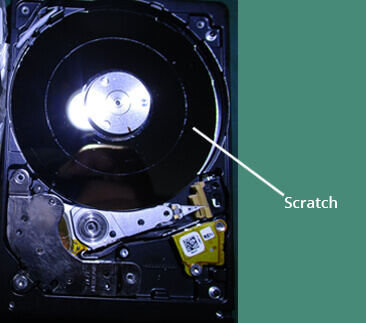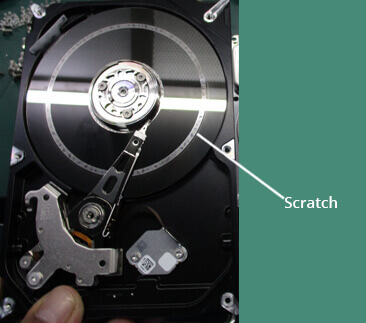 Mishandling in Transit
Storage devices such as hard drives are delicate, and hence they need special care while handling. The first step of data recovery process is the submission of the affected storage media. The unprofessional data recovery service providers don't understand the significance of this step.
In transit, the device may get damaged due to mechanical shocks or even due to the electrostatic charge that develops because of the friction. The unprofessional data recovery service providers don't provide any specially designed damage-proof box to pack the media before carrying or asking you to send it to their 'so called' data recovery center. Any damage caused to your storage device reduces the chances of data recovery and might result in permanent data loss. Read more about packaging and shipping of storage media.
Communication Gap
Imagine a situation when you commit the completion of a task but you don't have any idea or skill sets to accomplish it. You won't have an answer about the status of the job. Local data recovery service providers look for a short term benefits. Customer delight and empathy are never their objectives. They lure you with a lower data recovery cost and false commitments. And once you're trapped, they don't communicate and keep you in dark as they don't know what they are doing and what to say. During this course of time, they play around with your device and with the valuable data stored on it. It's actually by a chance if they can finally recover your data, but if not, you may lose your data permanently.
Final Thoughts
Your data is precious. In the unfortunate event of data loss , your best option is to reach out to a Professional Data Recovery Service provider. They have the right environment (Class 100 Clean Room) ; the right equipment , skilled & professional manpower , world-class quality process (ISO 9001) to assure you of best outcome for data recovery. Further, they follow Information Security Management System (ISO/IEC 27001) to safeguard your data privacy.
An unprofessional service provider on the other hand follows hit by trial approach ; relies on limited knowhow in an ill equipped set up to try and recover data by chance. Once the storage media is worked around in an unprofessional set up ; the chances of data recovery are diminished significantly , besides the grave risk of your data getting leaked out to unscrupulous elements.
You get only 1 chance of Data Recovery; make the Right Choice and Rejoice !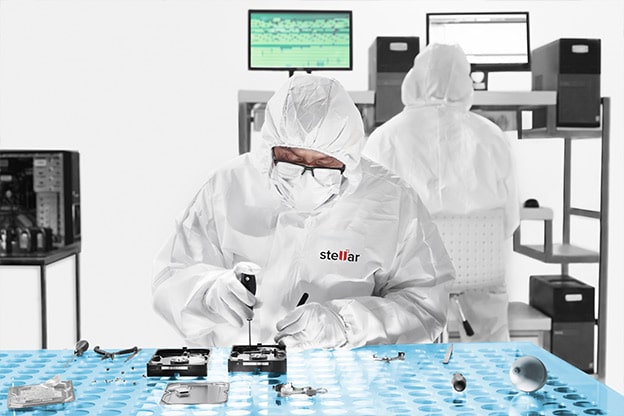 Stellar® Professional Data Recovery Lab setup