Summary: You may come across a plethora of free data recovery software for pc but to decide which one to select is not easy. To help you with this, in this post, we have mentioned the key factors to consider while selecting a data recovery software. Also, we've mentioned one of the best free data recovery software that can recover all types of files from any kind of storage device.
Data loss, due to accidental deletion, formatting of the drive, file corruption, etc., from PCs and storage devices is a common scenario. However, there are various free data recovery software available in the market that can help recover lost data from PCs and storage devices. One such tool is Stellar Data Recovery Free Edition - a reliable product from a premium data care company. This is a DIY software and works in multiple data loss scenarios.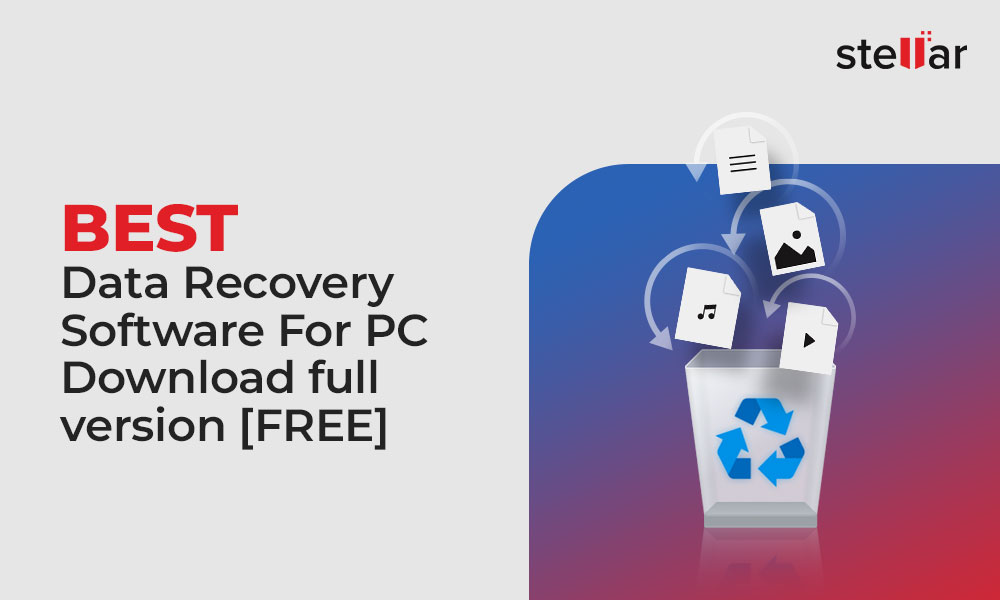 Data Loss Situations Where You Can Recover Data with Free Data Recovery Software for PC
Here are certain instances where you can recover data effortlessly with the Stellar Free Data Recovery Software:
Accidental Deletion: Accidental deletion is a common occurrence. When a file is deleted, it isn't removed from the system, only its address is deleted, making it inaccessible.

File Corruption: A file can get corrupted due to various reasons, including abrupt system shutdown, virus infection, etc. When it happens, the file becomes inaccessible.

Drive Formatting: While trying to explore settings or other options on your PC, you may end up accidentally formatting the entire drive or a partition.

Bad Sectors: Your system drive has developed too many bad sectors, leading to inaccessibility of data.

Lost or Deleted Encrypted Partition: A partition can be deleted or lost due to various reasons. If the partition is encrypted, it adds to the complexities in data recovery.

What Features Can You Avail With Stellar Free Data Recovery Software for PC?
Stellar Data Recovery Free Edition is a powerful data retrieval software that allows you to recover all data types, including documents, email data files, videos, photos, and more. It supports recovery from all common data loss scenarios, such as deletion, formatting of drive, corruption, etc. Whether you have lost your data from Windows PCs/laptops or any storage media, such as HDD, SSD, USB drive, SD card, etc., the software has got your back. It comes with three main data recovery options from which you can choose based on your data loss situation:
Everything: You can select any data, including files, folders, emails, and multimedia files, from a PC/laptop or storage media drive.

Documents, Folders & Emails Recovery: If you want to recover a specific document, file, or email, then choose this option.

Multimedia Files Recovery: Choose this option, if you want to recover only the multimedia files, such as photos, audio, and videos.

Some of its unique features are:
Below we have mentioned some unique features of Stellar Data Recovery that make it a perfect choice when it comes to data recovery:
1. Free Edition for Windows and Mac OS Platforms

Stellar Free Data Recovery software is available for both Windows and Mac OS platforms. On both operating systems, you can run this software and leverage all its functionalities and features. This software can retrieve lost or deleted data in all logical data loss scenarios.
Check here for free mac recovery software

2. Supports Unlimited File Types

The software supports recovery of almost all file types. It can recover photos, videos, music files, Word documents, PPT, PDF, Zip folders, and emails. Moreover, the software supports recovery of unlimited file formats. It can recover photos of file formats JPEG, TIFF, BMP, GIF, CR2, CR3, RAW, SR2, DCR, etc., and videos of MP4, MWV, MOV, AVI, 3GP, MPEG, MQV, and other file formats. It can recover audio files of formats, such as MP3, MP4, WMA, ACD, AMR, etc.

3. Recovers Data from All Types of Storage Media

The software can recover data from all kinds of storage media. It supports data recovery from laptop, desktop, external hard drive, flash-based SSD, pen drive, memory card, SD card, and more. Stellar Data Recovery can recover data from every model and brand of storage device.

4. Supports BitLocker-Encrypted Drive Recovery

The software allows you to recover data from BitLocker-encrypted drives as well. Even if the drive is formatted, it helps you get back your data. You just need to enter the BitLocker decryption key and then run the software. It will scan the locked drive and salvage your data successfully.

How Stellar Free Data Recovery Software Functions?
Stellar Data Recovery Free Edition comes with an intuitive interface. This DIY data recovery software is so easy-to-use that even a person with no technical expertise can easily perform the data recovery process.

Important: Make sure to stop using the drive from which you have lost the data to avoid overwriting. Otherwise, the chances to retrieve data becomes minimal even with a data recovery software.

Follow the below-given steps to recover lost or deleted data by using the software
Firstly, download, install, and run Stellar Data Recovery Free Edition. It will open up the software interface on your computer screen.
From the 'Select What to Recover' screen, select 'Everything' or type of data you want to recover, such as Documents, Folders, Emails, or Multimedia Files, and click Next.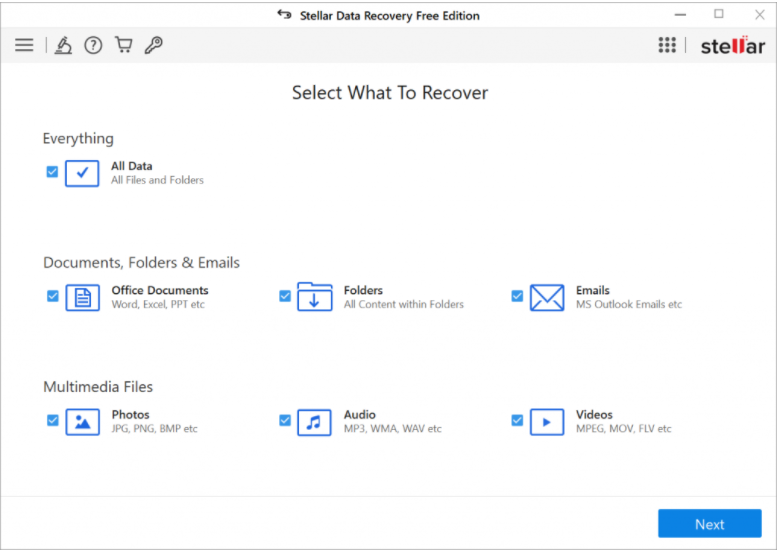 From the 'Recover from' screen, select the drive or location from where you lost the data and click Scan. It will begin the scanning process.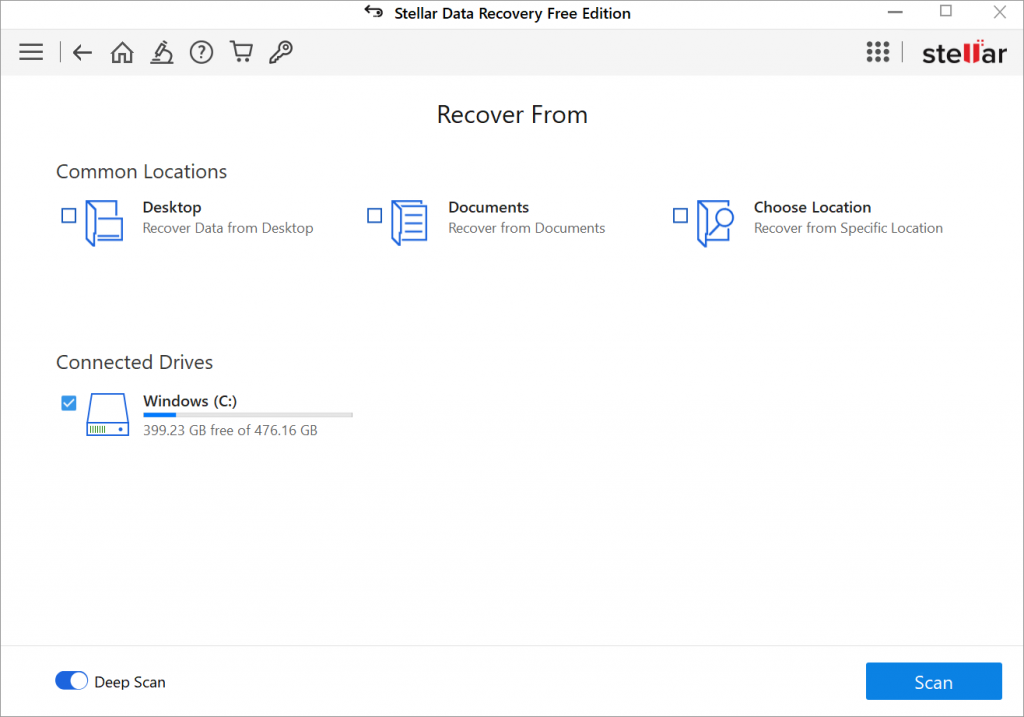 Once the scanning is complete, select the files you want to recover and click Recover. You can also preview the recovered files.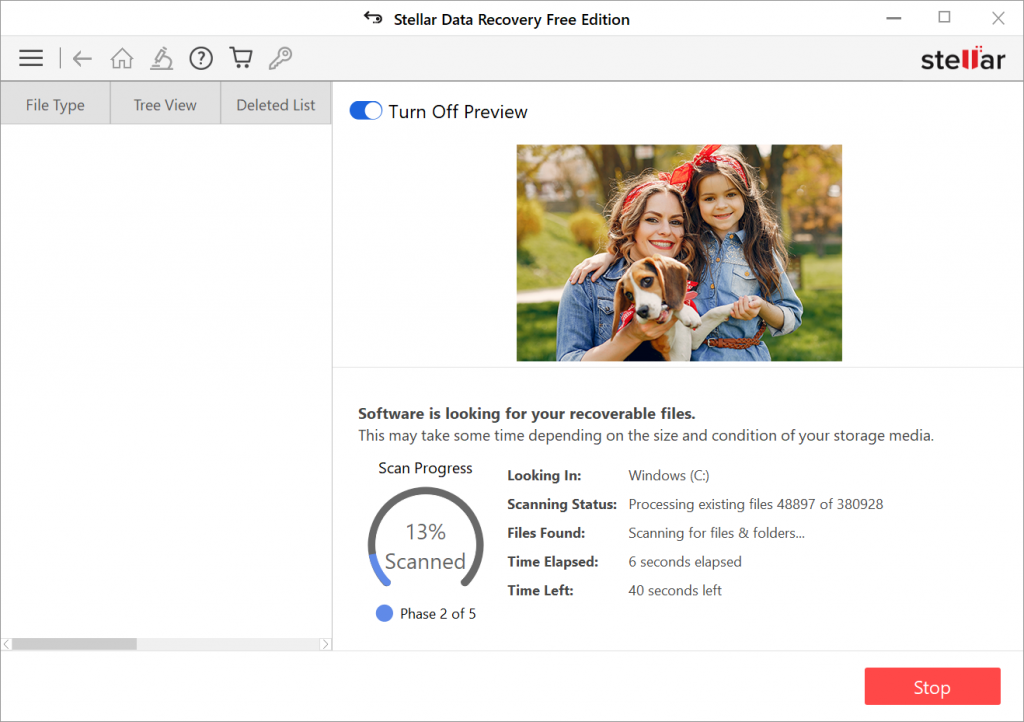 Click Browse to choose the location to save the recovered files and then click 'Start-Saving'.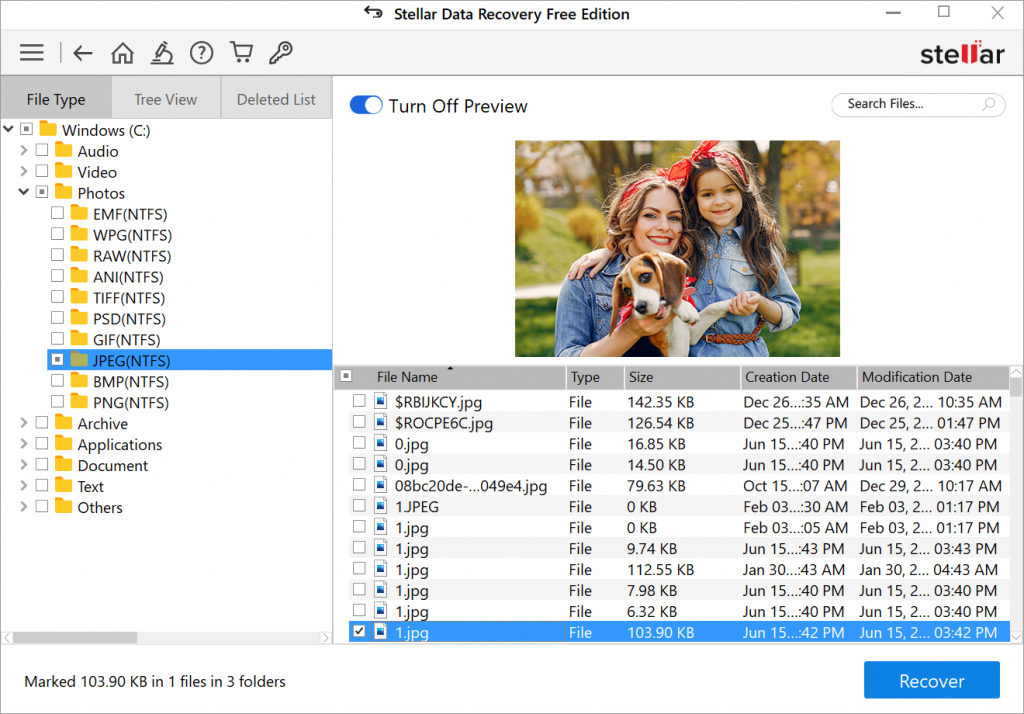 Note: The Free Data Recovery Software recovers up to 1 GB of data for free. If you want to recover unlimited data, upgrade to the paid versions of Stellar Data Recovery software. You can choose either from 1 month or 1 year license plan. The blog readers can save 10% more on the yearly plan, by applying the coupon code - BLOG10 at the time of software purchase. Along with that, you also get an "In-lab" service coupon worth Rs. 2500 with every purchase of Stellar Data Recovery software that you can redeem while opting for Stellar Data Recovery Services.

Buy Now

Why you should Choose Stellar Data Recovery?
Here are a few key factors that make Stellar the best choice when it comes to data recovery:
Vast Experience: Stellar is one of the renowned data care brands and has been fulfilling the users' data recovery requirements since 1993. It has more than 3 million satisfied customers across 172 countries that indicate the brand's trustworthiness.

Virus Free: Regardless of which software you want to download, the first thing you would want to know is, whether it's safe to download or not. We assure you that Stellar Data Recovery Free Edition is free from any virus and is entirely safe to download.

Data Privacy: Stellar Data Recovery is an ISO 27001 (ISMS) certified data recovery organization, which implies that it has all the policies, procedures, and framework in place to keep the customers' data private and secure. Besides, they follow all strict security procedures to protect the integrity of client's data at all times. Moreover, the periodic internal and external audits ensure strict adherence to the data security and privacy standards.

Free Means Free: When we say FREE, it means FREE. You can download Stellar Data Recovery software without paying a single penny. It's not a demo version. Instead, it's a free edition of data recovery software that empowers you to scan the media, preview the recoverable files, and save them at your desired location. You don't need any email ID or credit card details for saving the recovered data.

Wrapping It Up

No doubt, data loss is a worrisome situation. You may end up losing your files due to accidental deletion, drive formatting, drive corruption, and several other reasons. Fortunately, you can recover your data with an efficient data recovery software. If you're looking for the best data recovery software for PC, make sure to not download and install any random free software available on the internet. Try considering various factors, as discussed in this blog, before opting for a free data recovery software. Stellar Data Recovery Software for PC is one such DIY software that can help you recover data lost due to any logical data loss situation. It's safe to install and effectively recovers all types of files from the PC and other storage media.