3rd Annual ERM Leadership Summit 2018
Stellar Data Recovery recently showcased its certified data erasure software 'BitRaser' at the 3rd Annual ERM Leadership Summit 2018.This year the summit took place from 23rd & 24th January, 2018 at New Delhi, bringing together the ERM community to discuss & share techniques and methodologies required to counter the evolving challenges of new governance, operational risk and compliance practices at an enterprise wide level.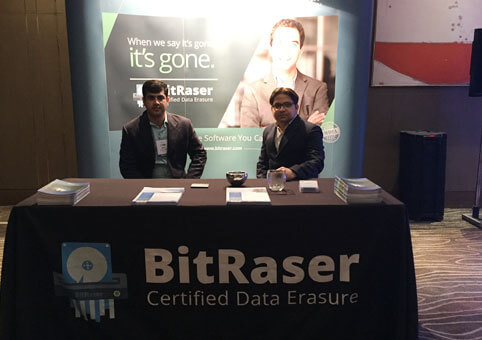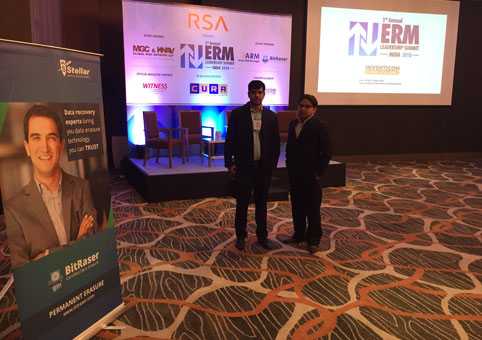 The 3rd Annual Enterprise Risk Management Leadership Summit was designed to create a platform where the various challenges in Enterprise Risk Management can be brought to light and to address and overcome these challenges in a manner beneficial to all sectors. The event majorly focused on the following five areas:
Addressing Cybersecurity in ERM – the new reality and todays challenge
Fraud Risk Management - the need for a strong anti-fraud stance and proactive, comprehensive approach to combating fraud
Leveraging technology - Monitoring operational results, maximizing performance opportunities and mitigating risk
Identifying the key challenges in implementing risk management in an organization
Creating value through enterprise risk management
Mr. Arun Gupta, (Regional Sales Manager – North) and Mr. Aman Sodhi (Sales Manager) represented Stellar in 3rd Annual ERM Leadership Summit 2018. Our team interacted with CIO's and Risk managers and understood the data security related challenges faced by organizations.
We also presented and demonstrated our product BitRaser for Enterprise. BitRaser is certified data erasure software by Stellar Data Recovery.
About BitRaser
BitRaser is Secure, reliable and cost effective data erasure solutions to erase data permanently beyond data recovery scope at end of life cycle of IT assets such as PCs, servers, rack mounted drives, and smartphones. Today organizations need tamper-proof erasure reports to prove successful erasure and comply with legal auditing requirements.
BitRaser Solutions
BitRaser for Enterprises - Enterprise and Government face challenges of Information security being compromised if sensitive and confidential business information falls into wrong hands at the time of disposal or reallocation of IT Asset. A general worry for enterprises, big or small is about risk of sensitive data leakage and need for a best solution that can achieve its data sanitization requirements. Besides, enterprises today have to ensure security compliances like SOX, HIPAA, GLBA, EU-DPA, ISO 27001, IT-Act, PCi-DSS, ISAE 3402-3416 when it comes to large data handling, especially when the IT assets are moved internally or externally. BitRaser for Enterprises helps organizations to erase data securely to fulfill audit requirement.
Solutions for IT Asset Disposition Companies
Safe disposal of IT assets in case of retired assets or leased IT assets is of utmost importance for organisations today to prevent data breach situations and to meet legal compliances. Physical destruction of old IT assets is no longer the preferred solution. Organisations prefer to be environment friendly and in their go-green drive chose to give their retired IT assets to IT Asset disposition companies (ITADs). ITADs help in data sanitization by securely erasing company's data, using international standards of erasure (DOD, NIST, Peter Gutmann etc.). ITADs prefer to use BitRaser, a secure and cost effective tool that is simplest to deploy and help meet audit trails. BitRaser for IT assets disposition companies help to meet Data Sanitization Needs for End User Organizations (Read More).
Strategic Alliance
Stellar, the Global leaders in Data Recovery Services invites all Hard Disk, Storage, Digital Media manufacturers etc. for Strategic Alliances for Products and Services mutually beneficial to both. Stellar is India's only professionally managed Data Recovery Company with State-of-Art-Infrastructure of Class 100 Clean Room for carrying out Data Recovery Services. Stellar's time bound services have created a mark in the industry with over 2 million happy customers worldwide.
Reach us: marketing@stellarinfo.com
Corporate Partners
Become a Corporate Partner with Stellar to avail various Corporate Benefits extended for all types of Data Recovery Services. Corporate Benefits include pre-defined special rates, free media pickup & drop facility with centralized billing for all services rendered at any of our 15 locations.
Reach us: partners@stellarinfo.com