Homeland Security 2019
Global Data Care Experts, Stellar participated as associate partner in the FICCI's 11th Homeland Security conference that took place in New Delhi on 22nd & 23rd August 2019. FICCI on an annual basis organises a conference on Homeland Security, which witnesses participation from senior officials from Government of India, Central Armed Police Forces (CAPFs) and various State Police Forces (SPFs). The theme of this year's programme is 'Innovation led Cyber Crime Management'.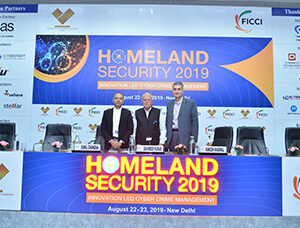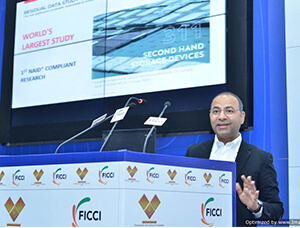 Mr. Sunil Chandna, CEO & Director IB, Stellar talks about Next Generation Cyber Technologies for Homeland Security.
Mr. Chandna enlightened the audience with threats and possibilities leading to data breach. During his session he spoke about unsafe ways of destruction of old IT assets that may lead to data breach and the best practices for media sanitization. In addition to this, Mr. Chandna also shared the study report & findings on "RESIDUAL DATA STUDY ON SECOND HAND DRIVES", this is world's largest known study of used devices.
Mr. Manoj Dhingra ,Co-founder & Director DB, Stellar participates in close door discussion on Cyber Security 2020 , objective is to prepare strategy for ..
Mr. Dhingra participated as one of the esteemed panelists in the closed door discussion on Cyber Security 2020. The objective of this discussion was to review the National Cyber Security Policy 2013 and also to make recommendations to Govt. of India on National Cyber Security Strategy 2020.
Here Stellar showcased 'BitRaser' a managed & certified data erasure solution that fulfils internal & external corporate audit requirements with traceable reporting.
The programme brought together stakeholders from the Government, Intelligence & Police Forces, Industry, Academia & Think Tanks to promote development and implementation of systems and concepts to combat cyber-crime, encourage 'Make-in-India' for Cybersecurity and provide platform to Indian startups for understanding the requirements of Government agencies and support them to promote indigenous expertise in cyber security.
New Service Capabilities
Stellar Data Recovery will showcase their expert data recovery capability from SSD (solid state drive) & various RAID configurations along with their trusted hard disk recovery services & software toolkits.
SSD Recovery Service
Stellar has studied every bit of SSD (solid state drive) internal drive & devised many powerful SSD recovery techniques to recover SSD data without any hardware, software limitation. The in-house R&D team of Stellar Data Recovery has analyzed various modules and brands of SSD devices to develop many efficient SSD recovery tools & techniques to recover your lost data. Stellar's efficient, risk free & systematic recovery approach assures up to 100% recovery of your invaluable data.
RAID Recovery Service
Stellar is equipped with the most advanced data recovery techniques & the required infrastructure to recover deleted data & that is the reason we provides the best RAID data recovery services from all RAID levels & configurations. Stellar ensures maximum possible data recovery from all instances of data loss with minimum turnaround time maintaining confidentiality of data.
Strategic Alliance
Stellar, the Global leaders in Data Recovery Services invites all Hard Disk, Storage, Digital Media manufacturers etc. for Strategic Alliances for Products and Services mutually beneficial to both. Stellar is India's only professionally managed Data Recovery Company with State-of-Art-Infrastructure of Class 100 Clean Room for carrying out Data Recovery Services. Stellar's time bound services have created a mark in the industry with over 2 million happy customers worldwide.
Reach us: marketing@stellarinfo.com
Corporate Partners
Become a Corporate Partner with Stellar to avail various Corporate Benefits extended for all types of Data Recovery Services. Corporate Benefits include pre-defined special rates, free media pickup & drop facility with centralized billing for all services rendered at any of our 15 locations.
Reach us: partners@stellarinfo.com